mobilee's Hi Five North America Tour Wrap Up
While Anja Schneider has been hopping between America and Europe to visit fans since the birth of mobilee five years ago, last month she had a very special companion on the 'Hi Five mobilee!' US Tour. And.Id's spotlit live set which features jazz inspired lush trumpet solos over his original tracks has become a well known and highly sought act in Europe. Having never visited the States however, it was a thrill to debut his kinetic performance to voracious audiences in San Francisco, L.A., Chicago, and Miami.
To say that he whipped up a storm would not be overstating it! By his side, Anja Schneider delivered some of her best signature style sets to date, leaving the crowds panting and breathless.
They were also joined by Ralf Kollmann in San Francisco, where label friend Clint Stewart hosted the mobilee party. Together they celebrated mobilee's 5th anniversary in style at a super secret underground location, and also met up with Mothership friends Catz 'n' Dogz and Dirtybird label head Claude Von Stroke!
Hi Five! mobilee US Tour Trailer
Filmed and directed by Sebastian Radlmeier
To capture Anja Schneider & And.Id on the road, we invited a film crew along to catch us from every angle. Here's a teaser for a full length tour documentary coming soon!
Hi Five! mobilee Flickr Tour Gallery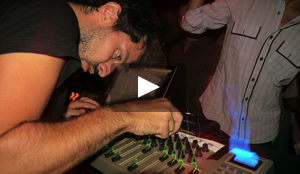 "Golden Gate and the Rock , Hollywood Blvd, Gotham City and Vice! First U.S. attempt was fantastic.. great PEOPLE, crazy parties ! Looking forward to going there again and playing with the mobilee crew!" - And.Id
Anja Schneider Live DJ-set Electric Pickle, Miami
Anja Schneider Live DJ-set Electric Pickle, Miami by Mobilee records